You are here
SportsTech - a bridge between health and sports
SPIN Accelerator Sweden is a new initiative to strengthen sports innovation in Sweden, powered by KTH Innovation and Center for Sports and Business at SSE. Led by the Swedish Olympic Academy together with Hype Sports Innovation, this initiative brings together academia, the sport community and the startup tech sector at a global scale.
Get inspired
The concept of the accelerator is a mix of virtual and physical meetings. The virtual world makes it possible to stay connected and get motivated by another startup's success in between the physical meetups. An important part has been to learn and get inspired by other startups stories. We have had the pleasure to listen to more mature startup guests Twiik and Racefox. They have shared important insights and given the startups important tips on how to think and to don't be afraid to change things that doesn't work optimally.  A great moment for me as a program manager was when one of the startups after the Twiik talk says – "Wow, this might be a business model for us".
An international and equality program in more than one dimension
The SPIN Accelerator Sweden that has been running during spring 2019 is an international program. Four cohorts are running alongside each other in, Sweden, Italy, UK and Australia. When we look at our own cohort we have startups registered in Sweden, Denmark, Finland and Germany. It's also very positive to see that out of the 15 companies that were pitching at the boot camp to be selected for the accelerator program seven had female founders, in the final cohort four out of ten has female founders.
SportsTech an important part of tomorrows health
When I look at the companies that are in our cohort I reflect on that many of them are an important part of tomorrows health. JustFotball, gamification of "real" football to make people to get out and play. Kinexit, a concept for golfers including mobility testing and workouts to maximize performance and, equally important, prehab to stay strong and healthy. Race.se a complete solution for race organizers to make it easier for runners, skiers and swim runners to sign up and find new races to stay active and find new goals. STRAFFR has invented a smart resistance band with numerous applications, in rehab, prehab and for travelers. I could keep going on and on about all the interesting ideas -an amazing feeling. I strongly believe that SportsTech is a bridge between health and sports and something which will become more and more important.
The Swedish Olympic Academy
The Swedish Olympic Academy is a foundation founded in 2017 by the Swedish Olympic Committee, KTH Royal Institute of Technology, Karolinska Institute, and the Stockholm School of Economics.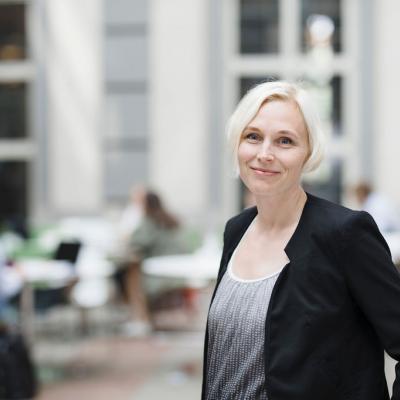 Stina Lundgren Högbom, PhD
Program Manager SPIN Accelerator Sweden, Research and Outreach Manager at Center for Sports and Business Stockholm School of Economics
2019-06-11