EpiEndo is developing new anti-inflammatory, barrier-strengthening drugs for the treatment of chronic respiratory diseases, with a focus on chronic obstructive pulmonary disease (COPD). A successful Phase I study was recently completed and several clinical studies are underway.
The company was founded in Iceland in 2014 and today has laboratory operations in Sweden and Iceland. The company has chosen to work semi-virtually as it wants to attract the best people in each area without the requirement that they have to live in a special place. This means that the company's team of experts is currently located in Sweden, Iceland, Germany and the United Kingdom.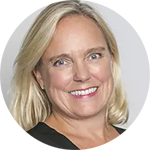 – Of course, the geographical spread means some logistical challenges, but the pandemic has shown us all that virtual work works well, says Maria Bech who is CEO of EpiEndo.
Stockholm Science City welcomes EpiEndo Pharmaceuticals to Hagastaden!